Something for everyone.
Ever mindful of the budget-conscious guests, Great Huts offers Cozy Camping, affordable, down-to-basics lodgings. "Glamping" at its Finest!
Campers enjoy private permanent structures (aka huts) with shared bathroom facilities. The inimitable Comfortably Rustic rooms are unpretentious but stylish ... and replete with comfort!
The unforgettable Safari Chic Huts and Tree Houses are furnished and decorated with craftsmanship and artwork - all created by Jamaican artists.
Or enjoy one of our Royal African Rooms - air conditioning and added luxury as part of your back to nature getaway plans.
We welcome you to call or whatsapp +876-353-3388
Mandinka
This large suite with its own separate entrance and kitchenette keeps everything you need close at hand – just steps away from the splendors of nature – with décor accented by 19th Century Jamaican antiques and early 20th Century pieces from the Tropical Museum of the Netherlands. Features include a queen-sized four-poster mahogany bed, hand-carved desk and chairs, en suite bathroom with jacuzzi, dressing area and ample closet space.
Yoruba
All alone on the top level of Africana House, with the sea and surroundings on view through wraparound windows…you'll have a perfect backdrop for that long-awaited romantic getaway. Step out onto the Mandela Rooftop Deck, and the breeze off the cool Caribbean sea will soothe your soul. The layout and décor are sumptuous and welcoming – with a king-sized four-poster bed in rich mahogany, hand-carved tables, a large circular shower and tub, and ample closet and storage space.
Igbo
A generous two-tiered suite with its own private doorway to the Lotus Pool, where you can sunbathe, take a dip or sip a java while you soak up the view. Inside, you'll find ten-foot ceilings, elegant stonework, handmade furnishings, a queen-sized bed, and an open-concept en suite bath with clawfoot tub. Just off the Great Room, where you can lounge, enjoy a chef-prepared meal, watch a film, listen to music or read.
Ibibio
Our smallest Royalty room concedes nothing to the others except space. The intimate environment with its ten-foot ceiling is still lavishly furnished with handmade fittings, a queen-sized bed, sitting area, en suite bathroom with a clawfoot tub, and generous closet space. Suitable for one or two people, with a separate entrance for those who value privacy.
Queen of Sheba
The jewel in Great Huts' crown, this three-story stone house has a king-sized four-poster bed downstairs, with king, queen and double beds on the floors above and two bathrooms with tub and shower. Dramatic African sculptures and paintings and stunning garden views make it a 5-star suite!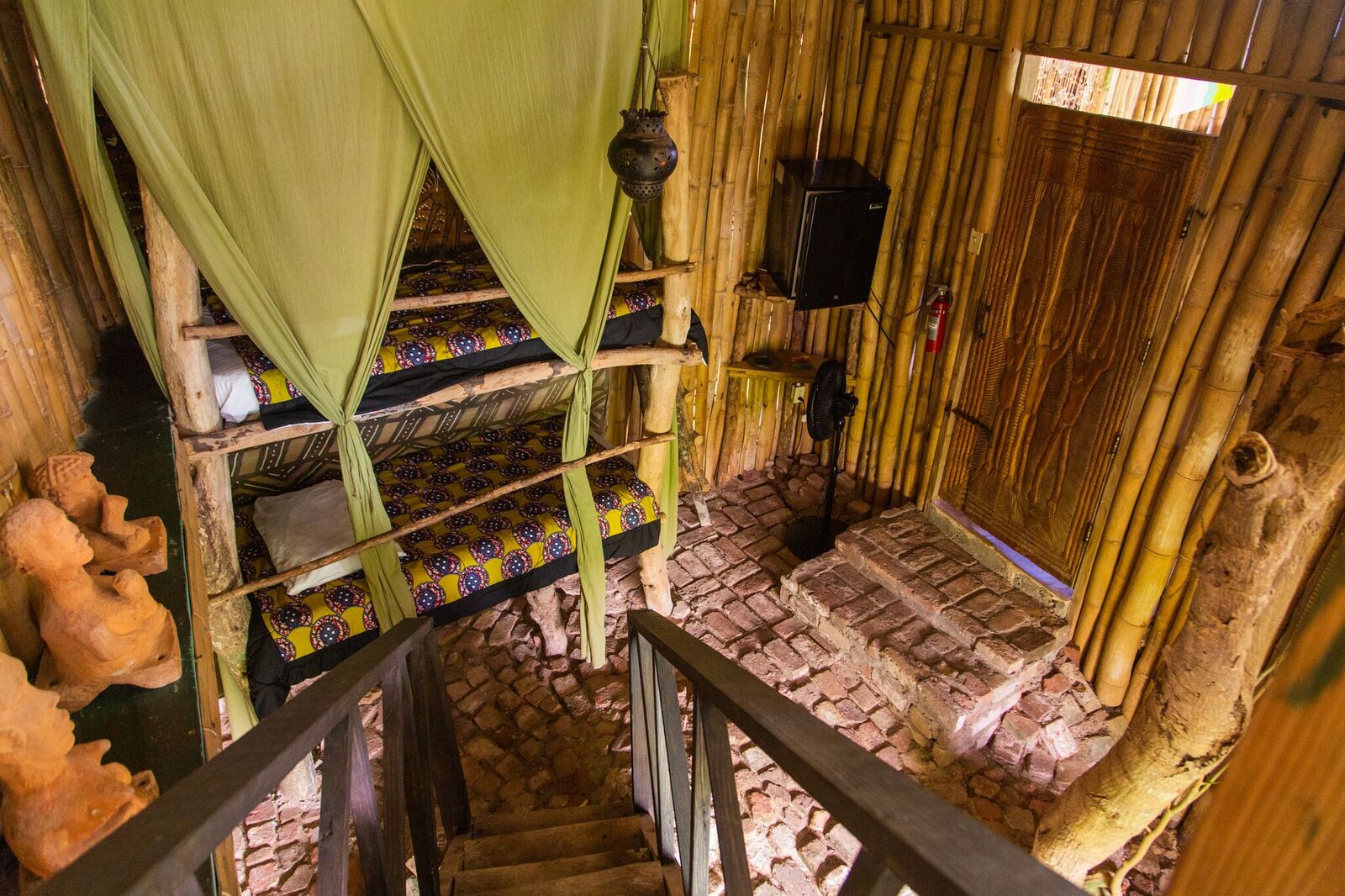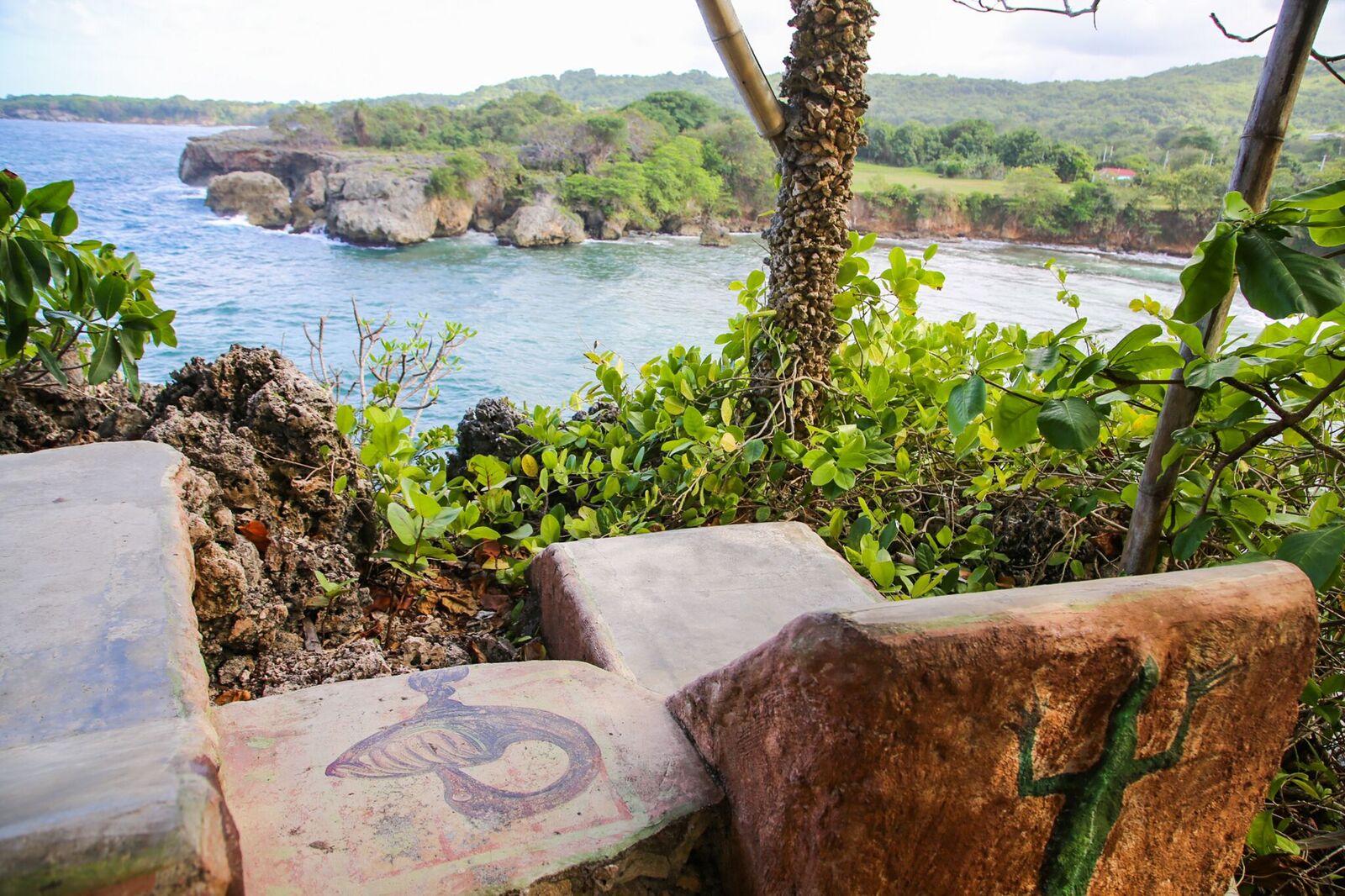 Fig Tree House
This two-story tree house offers spectacular views of Boston Bay and the Caribbean sea, an open-air (but still fully private) bathroom with a canoe-shaped tub/shower, and exclusive use of the adjoining Royal Lounge Bar after hours. It has one queen bed and two single bunk beds downstairs.
USD $213
Sleeps: 4 (2 adults and 2 kids)
African Sunrise
This whimsical favorite of our guests features breathtaking panoramic views of the Caribbean sea, our swimming pool and gardens, and the mountains of Jamaica. Enter by ladder up to the viewing deck, with its capacious swinging patio chair. The sleeping quarters above have retractable window-panels, a queen bed, and a bathroom with shower.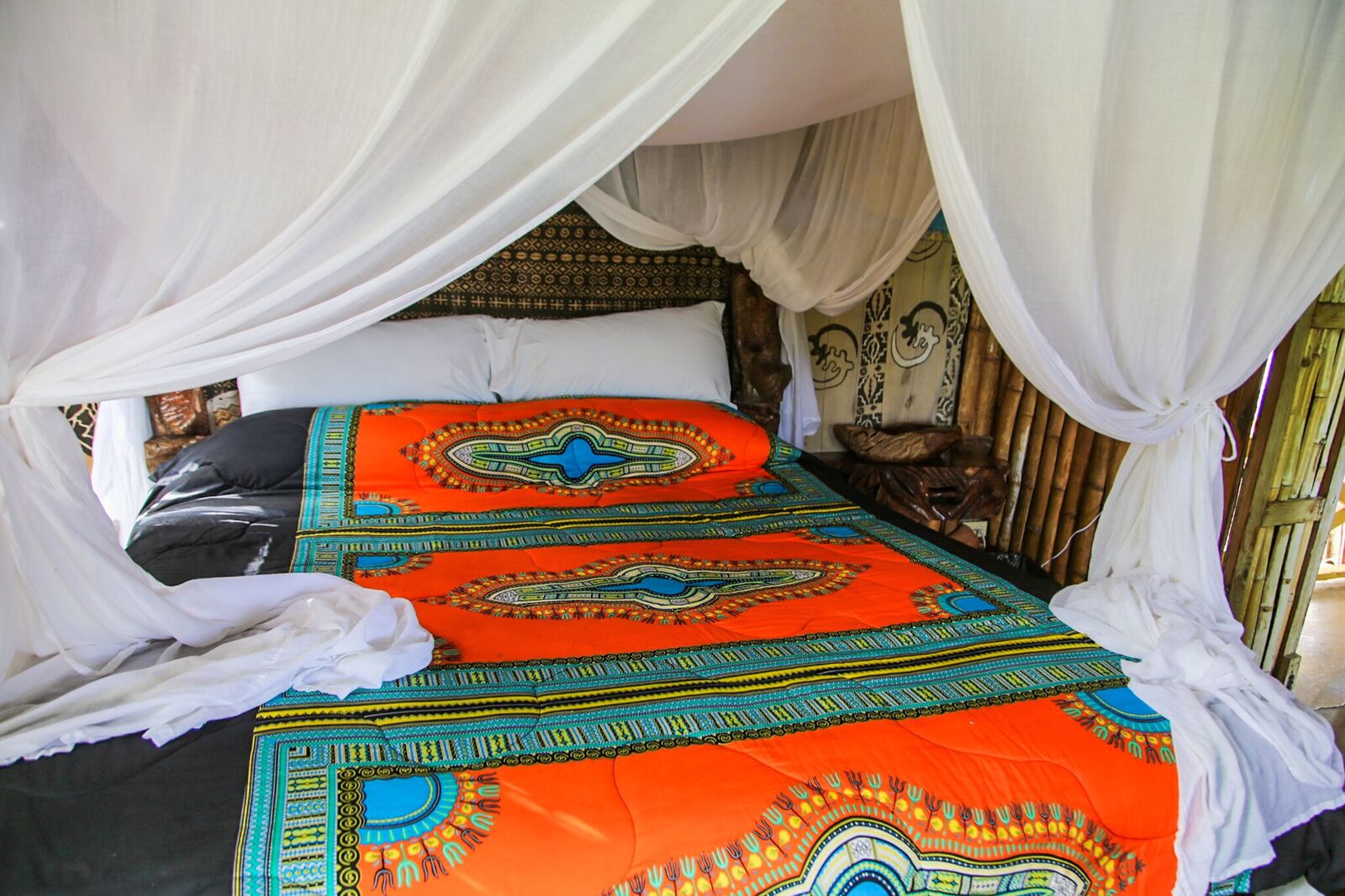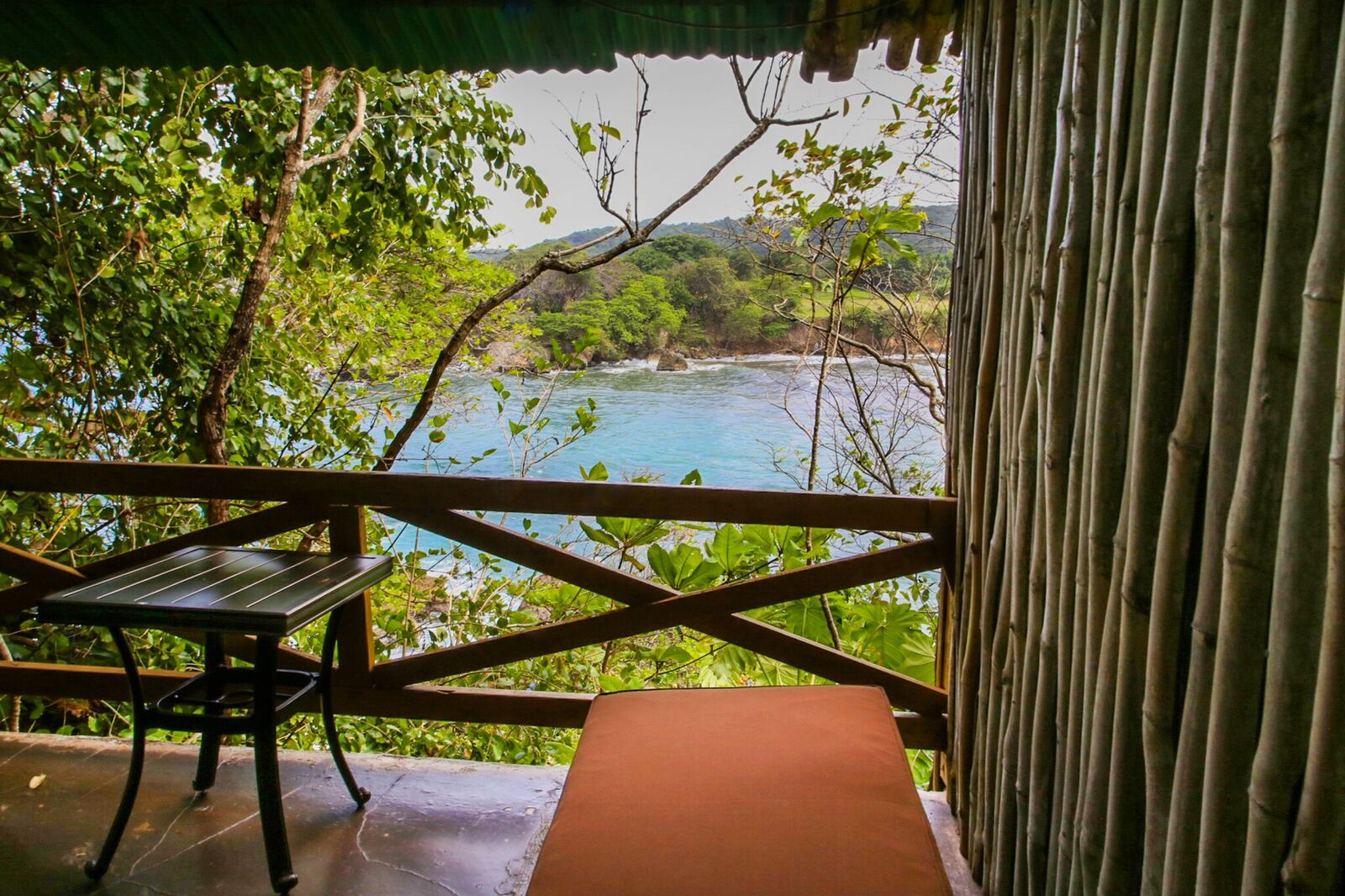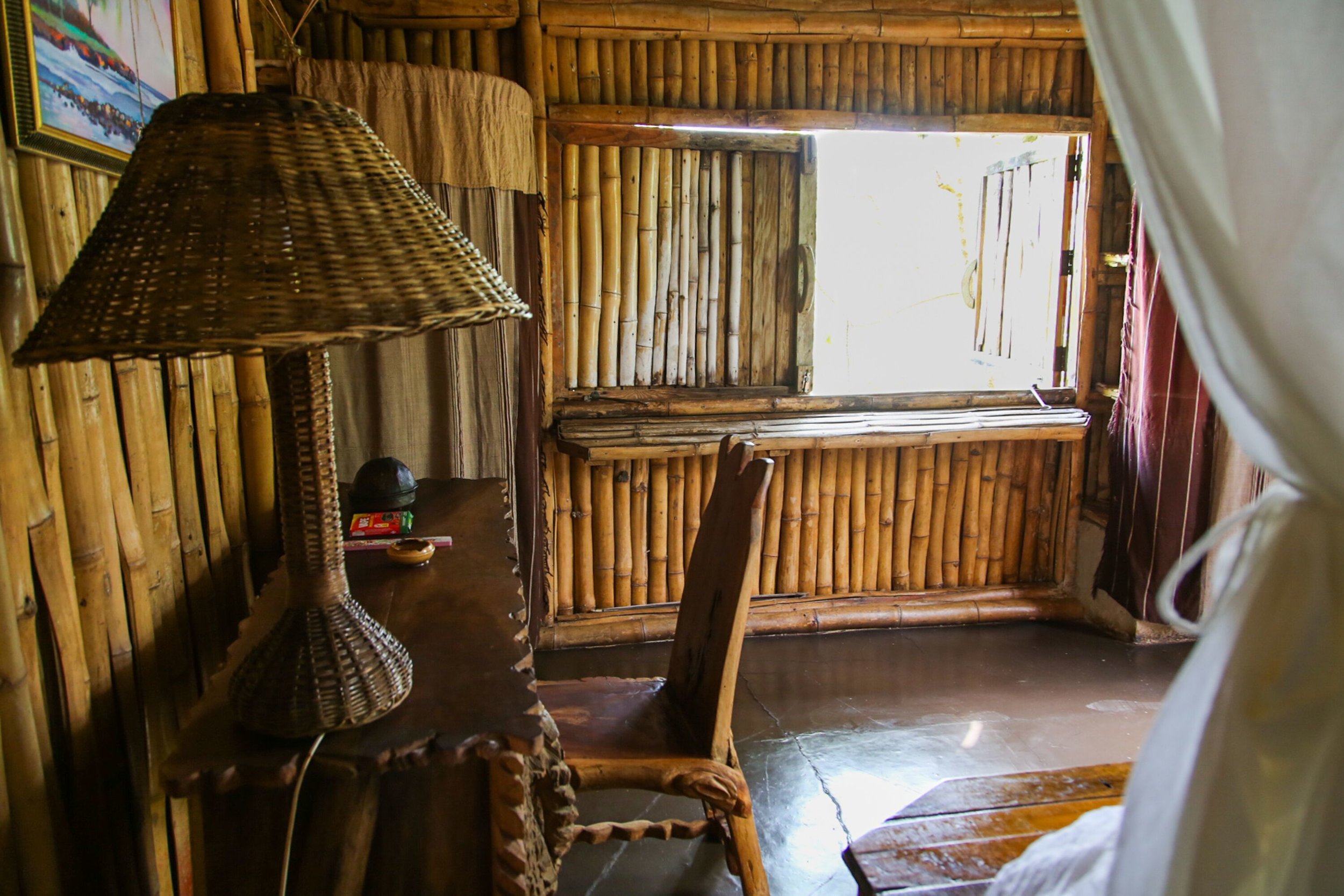 Bamboo Tree House
This bi-level retreat is our owner's favorite. The ground floor features a handsome stone-carved bathroom with private Jacuzzi and shower, and open-air sea and garden views. A staircase takes you to an outdoor lounge deck with a hammock, sunbed and even better prospectives of the Caribbean sea. Inside you'll find the bedroom proper and its king bed.
Almond Tree House
Carefully built around an actual almond tree, this arboreal home boasts sea and garden views from its ground level bedroom, but the vistas get even better when you climb the stairs to the master bedroom and its huge bathroom. Before long you're almost part of the almond tree itself (would that make you a nut?).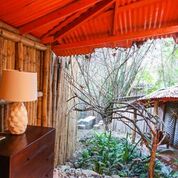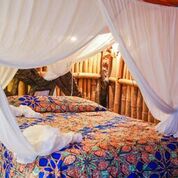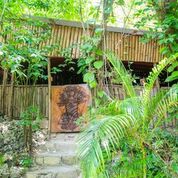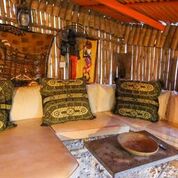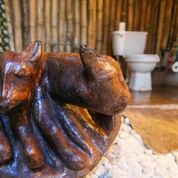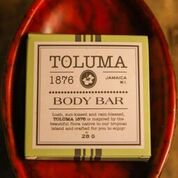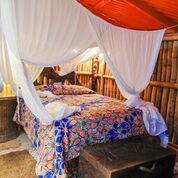 Bamboo Garden
Royalty Room. This 50ft long en-suite bamboo hut with large bedroom, sand-flooring, wooden carved canoe bathtub and shower will make you feel like you really are in Africa! Private kitchen facilities and entertaining area with inside bar as well as open dining area outside turn this room into a home-like vacation.
Sea Grape
Perched amid mature sea grape trees, this two-room hut at the far end of Great Huts has a separate dining area with stunning cliff-side views of the Caribbean sea, an outdoor soaking tub, and a garden shower restroom.
Lemba Hut
Named in honor of the Lemba tribe of Southern Africa, this large bamboo shack has a singular saloon-like entrance and semi-open architecture that promise an unusual fusion of openness andprivacy. Contemplate an expansive African canvas "wall" from the king-sized bed or feast your eyes on the surrounding gardens as you loll in the over-sized tub.
Queen Nyabinghi
Queen Nyabinghi once led a rebellion to secure her people's freedom. The hut that bears her name is an icon of freedom, perched ten feet up in a tree, its breakfast nook and bed (queen sized, of course) overlooking the Caribbean sea and the start of our breathtaking cliffside Snake Trail. You'll feel like you have the whole world to yourself, with the infinity pool and yoga deck not far away. This is our newest tree house, but it's already a guest favorite.
Kaya
A decidedly unconventional (even for us) nomadic stick hut with an antique brick floor, festooned with richly textured wall hangings that suggest an authentic tribal African atmosphere. Two double beds can accommodate four in tranquil repose.
Akan Hut
An enchanting bamboo hut in the heart of Great Huts' lavish greenery. 2 single beds sleep up to 2 people. Shares an outside shower and wash room with Akan Tower; bathrooms are just down the path.
Cherry Goat
A pleasingly primitive bamboo hut with double and single beds. Everything you need and nothing you don't, in the heart of the resort. You're just a short walk from to our communal bathrooms, and a stone's throw from our animal enclosure and lobby.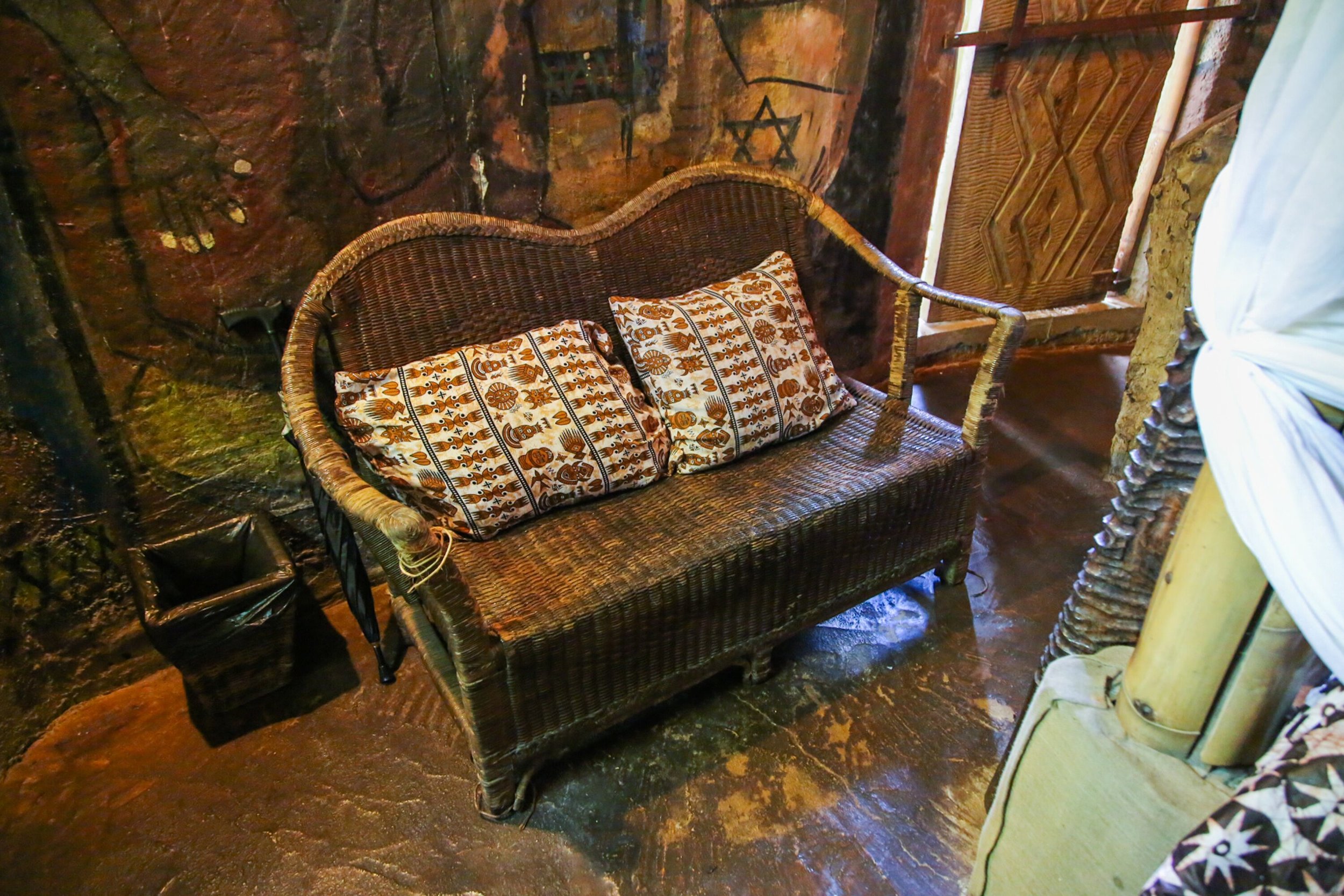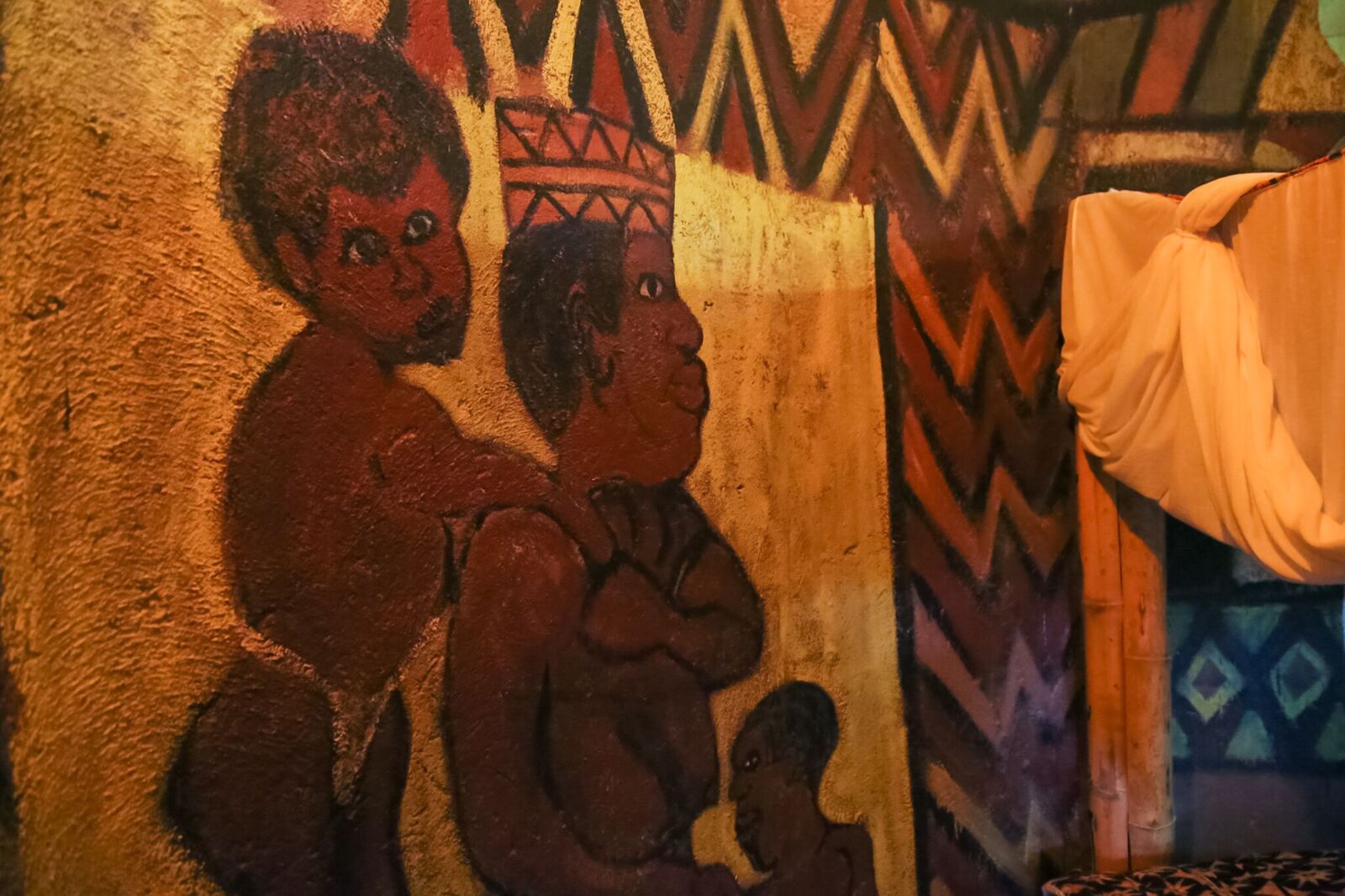 Akan Tower
A striking stone tower with Oak Dyed floor and murals by noted Jamaican artist Kingsley Thomas. Shares an outside shower and wash room with Akan Hut (above); communal bathrooms are close by.
Tabernacle
This spacious family hut is set in a traditional African tent with stained board floor and garden views. It shares an outside shower and wash area with Keimah and has 1 King-size, 2 Double and 1 single bed so can comfortably accommodate up to 7 people.
Keimah
Not as spacious as the Tabernacle "next door" but no less charming, Keimah can easily accommodate four people in its 2 double and 1 single beds. Oak Dyed floor, agreeable furnishings and an outside shower and wash area (shared with Tabernacle). Room design may be moderately different than pictured here depending on season.
Granary
A colorfully embellished reproduction of an African millet-seed silo — perfect for a solo backpacker soaking in the culture for a night...or a week! You'll love the geometry of the room, and the imagery on the wall will charm and arouse your imagination.
All Rooms and Huts include:
Complimentary breakfast

Fans & AC in Royal Rooms

Use of all facilities: beach, cliff-side pool*, mediation areas etc.

Over 250 Works of Art created by Jamaicans and African Art collection

Free wireless internet access - best reliability in main lobby

Cable TV (in the lobby only)

Extensive book & film library

*Use of Africana House Lotus Pool and Mandela Deck if not rented exclusively

Yoga, Meditation & Massage on request

Arrangement of all transportation and assistance planning all activities
ADDITIONAL INFO
Please take special care climbing the steep ladders to the second and third levels of some of our huts.
Guests are advised to bring sneakers and hiking shoes for rocky pathways and floors, water shoes, flashlights and insect repellant. Netting and mosquito coils are provided in all rooms.
Small lizards, frogs and hermit crabs wander freely in and out of guest rooms. Those afraid of these harmless creatures will not be happy at Great Huts.
PAYMENTS
Government taxes are excluded.
Reservations require a deposit. Full payment for the stay is due upon arrival.
Up to four weeks prior to your reservation your deposit is fully refundable minus a US$100 bank penalty.
Special Local Rates are available during low season.