The Artists of Jamaican Arts Odyssey 2018
Born in Moore Town, Portland Jamaica, Bryan McFarlane has had a long and committed interest in the intersection of art and art history. He encourages the creation of art but also to understand the implications and possibilities for art within art history, criticism and philosophy.
Professor McFarlane has received numerous awards including a prestigious Gold medal from the Chinese Government for the "Olympic Fine Arts 2008" in Beijing. Internationally, he draws inspiration derived from his travels throughout China, East Asia, Turkey, West Africa, South America, Europe and the Caribbean.
Born in Jamaica, Nakazzi Hutchinson is the daughter of Dawn Scott, a rebellious creative force whose talent for dissent she inherited, and Michael Hutchinson of Barbados who claimed the alternate identity Ras Ikael Tafari. A graduate of the Edna Manley College of the Visual and Performing Arts (specializing in Sculpture) Nakazzi won both the Juried prize and Popular Vote in the 2001 Mutual Life Artist of the Year competition.
Her art manifests a revolutionary aesthetic that is simultaneously sensual and philosophical, political and erotic. Nakazzi's sculpted masks invoke ancestral presences and originally connect the mystical and material worlds. Her large scale sculptural installations are often suspended between the ethereal and the earth-bound. Landscapes are peopled with shape-shifters, embodied spirits whose dreadlocks become tree roots reaching upward to the sky and down to the earth.
Nakazzi has exhibited her work in various galleries and museums and she won the commission to create a series of large mobile sculptures for the Norman Manley International Airport, Kingston, Jamaica
Mazola wa Mwashighadi is a multi-dimensional artist who has lived and worked in Jamaica since 1997.
Born in Kenya, Mazola studied drawing and painting in Kenya before majoring in Sculpture at the Edna Manley College of the Visual and Performing Arts through the Commonwealth Art & Craft Fellowship Award Study Programme.
Currently described as Sculpted Poetry, Mazola's work has received numerous awards and prizes, and continues to attract private and corporate commissions.
A universal visionary who continues to share ancient wisdom and insight though his work, way of life and the practice of his craft.
Mazola's work influences the visual backdrop of the Great Huts landscape.
Philip 'Ambokele' Henry was born in Port Antonio, Portland. He attended The Jamaica School Of Art, now the Edna Manley College Of The Visual and Performing Arts, there he specialised in Graphics.
He worked for a few short years in advertising, after which he became increasingly involved in fine art. He is highly proficient as a portraitist and is a master colourist. Skilled in a wide use of media he is rated as one of the best among Jamaica's fine artists.
Ambokele has numerous solo and joint exhibitions spanning a period of over 35 years.
Marcia Henry, born in Kingston Jamaica. Educated in Jamaica and the UK up to high school, then The Jamaica School of Art, her major was graphics. She is a trained teacher and taught art in high school and college.
Marcia is a formidable painter, sculptor and carver, who has found great pleasure in carving and pyro-engraving calabashes. Introduced to her some years ago by Jah Priest of Reach Falls, after which she became totally possessed by this means of expressing her creative energy.
Married to Philip they have four talented daughters and five wonderful grandchildren.
Marcia and Philip have an art shop in the Portland Craft Village.
Michael Layne of Port Antonio, Portland holds a Bachelor of Fine Arts degree (Ceramics) from the Edna Manley College of the Visual and Performing Arts, and a master's Degree in Art Education from the Ohio State University.
His works as a ceramicist explores concepts of the vessel as a means of "storing, protecting, presenting and serving" mainly through the construction of large bottles, oversized teapots, vases, bowls or plates assembled with clay slabs and decorated with clay slips and oxides. His passion for spontaneity and the energy of nature is explored in his more recent pieces. He is currently a senior lecturer at the Edna Manley College and a member of the Association of Jamaican Potters.
Marguerite Gauron was born in Jamaica, attended St Andrew High School, and sold her first oil paintings in Kingston before she left high school.
The recipient of over 15 Government & Community Awards including a Bronze Musgrave Medal in 1995 and several other awards for community and environmental services to Jamaica, she became involved in journalism, and continues to broadcast for RJR 94 FM
Marguerite taught pastel drawing for the Visual Arts Society of Grand Cayman where she still shows her art at the Pure Art Gallery.
She lives in SanSan, Portland and her work is displayed in over 25 countries around the world.
Lyndon Douglas studied photography at the Royal College of Art in London England, focusing on Fashion, Portraiture and from there quickly moved into Architecture. Since founding his studio in 1999, he has built up a client base that includes many of the UK's leading architects including Rogers Stirk Harbour + Partners (formally Richard Rogers Partnership), David Adjaye and Eldridge Smerin.
'If the photographic representation of an architectural form is to be successful it must be able to communicate to the viewer and it's Lyndon's ability to not only concretize moments of beauty, and to convey the experience of being in and around a built environment by his observation of the basics of composition: lighting, perspective, framing, balance and symmetry, but with his 'unfettered' eye the power behind his images lies in his ability to create an atmosphere that is palpable.'
Jennifer Hudson - Laurence King Publications.
Portrait by Susanna Maklin.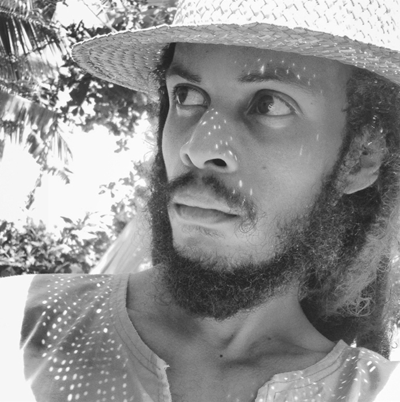 Joavan Puran has been contributing to the growth of contemporary Art in the Caribbean Space for the past decade. His work is reflective of his deep interest in issues relating to identity through portraiture and echoes his strong passion to revisit diverse cultural forms with the Caribbean space to inform his own perspective.
Joavan is influenced by the people around him, Rastafarian cultural forms and introspection of his own identity. Joavan is a past student of the Edna Manley College of the Visual and Performing Arts
Place of birth: Port Antonio, Portland, JA.
Growing up in Port Antonio I always have the passion for art. Being a son of a Maroon artist name Roy(aka Nigerian) Harris I watched him create magic on the canvas every day.
As we say it from mi eyes deh ah mi knee I wanted to paint do art and be art. I fell in love with art as long as I can remember, so I am not surprised of what I am doing now! On my part.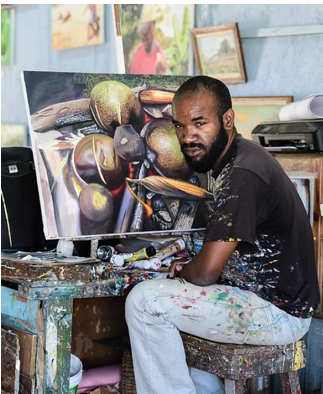 Mark Bell is a deeply talented artist whose work include portraits, landscape, fine arts, abstracts and more. The Jamaica Cultural Development Commission Art awardee has his works on display locally and internationally.
Mark has worked with prominent interior designer Jianne Legere. His portraits include Usain Bolt, The Governor General of Jamaica and other leading figures.His abstract pieces have been commissioned by the China Harbour Company.
He is very active in the promotion and development of young local artists in Portland, hosting numerous exhibitions to showcase their talent.
I started in 1992 and it has been up and down but I like art. Other artists learn from me, I learnt from Roy Harris in Port Antonio. I love it.
Sitting on a hilltop in Jamaica, overlooking the beach in Honduras, or marvelling at the mysteries of Mexico I find myself able to connect with an invisible spirit world. Inspiration reveals itself in a swaying palm tree, a leaping lizard or a twinkle in the eyes of an old man.
I divide my time between Honduras and rural Jamaica.
I never cease to wonder at the beauty that surrounds me and I am delighted when I capture a whisper of its fleeting magic with my paintbrush.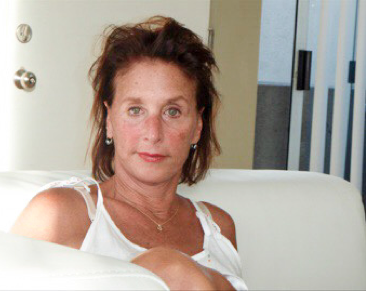 I reside in San San Portland where my studio is on site.
I have been painting for more than 40 years, am self taught. Mediums are watercolour, acrylic, oil. I also hand paint bisque tiles which are fired and used for interior design such as backsplashes as well as table tops. And have made several large shell mirrors....
All of my paintings are signed Jordan as my name is Barbara Jordan Florea.
I was born in Uganda, raised in Nigeria and educated in the UK.
Image as description has always been with me, and I do not remember not drawing or reading. I came to live in Portland Jamaica in 1991, and remain in love with it's dark yet vibrant beauty.
My work explores a variety of subject matter, depending on where my spirit takes me, primarily I consider myself a painter as it is the medium that terrifies, fascinates and challenges me most.
I have a love for paint and pigment, and am passionate about image construction, about the techniques and mediums involved and deeply believe that we all hold within us the power of expression though various art forms.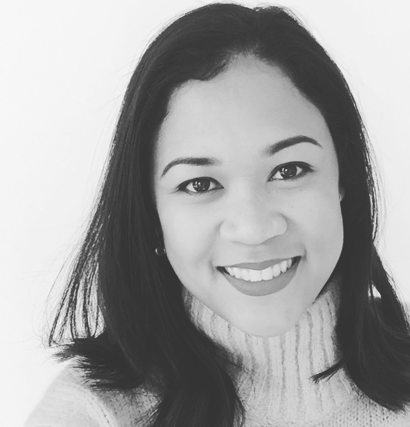 Stephanie Lue Yen was born and raised in Kingston, Jamaica. From early in her life she displayed artistic talent.
Stephanie's vibrant pieces are greatly inspired by the colours and textures of the natural environment, especially that of the Caribbean. She is drawn to the abstract style of painting as an expression of freedom, for both the artist and the viewers as one painting can evoke different interpretations. She signs her work with her initials "SLY".
Her work has been exhibited in Kingston, Jamaica and San Francisco, USA and her pieces can be found in private collections in Kingston, Doha, London, Bologna and San Francisco, to name a few.
Stephanie is also the founder and Creative Director of ARTIFY JA (artifyja.com), which facilitates art workshops and camps for adults and children in Jamaica.
From birth Christoff was born with the passion to become an artist. He was known for his drawing talent from when he could hold a pencil. He held his first paint brush at the age of 16 and has not put it down since. He specialises in the painting of flowers, thanks to Hopeton Cargill, Mark Bell and the Portland Art Gallery. He also accompanied Mark Bell when working for Usain Bolt.
Shane Bell is in intuitive, raw artist. He considers art as an undefinable yet ever present reality of life.
His drawing is automatic, drawing whatever comes from inside, representing the world, life and humanity.
He feels a strong responsibility in representing his art to the world.
Achim Clunis, is a Jamaican graphic designer,when he was 5 years old his father died in a motorcycle accident.
Achim's paternal uncle, Evert Clunis (uncle Eggie) introduced him to art, but it was when he went to Jamaica College he found his love for graphic design.
He enrolled in Edna Manley College to pursue a Bachelor of Arts degree in Graphic Design. While at Edna Manley College, Achim found that he was drawn to typography. He considers himself to be one of the few Jamaican graphic designers who specialises in typography, and credits his creativity to his environment and past.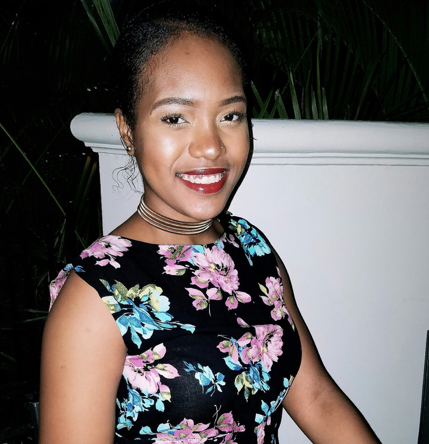 Tiana Anglin is a Jamaican illustrator and fine artist. With a pending Bachelor of Fine Arts Degree in Visual Communication her body of work displays technical, formal and conceptual diversity. With a gold and bronze placement in the Jamaica Cultural Development Commission's Visual Arts Competition and Exhibition under her belt for her serene portrait paintings, her subjects have taken on more experiential and environmental qualities. Her most recent project, Metroparadise, exemplifies this shift of focus from human subjects, to the spaces they inhabit - downtown Kingston being her muse for this particular project. Through her paintings and illustrations, the artist encourages viewers to behold charming subjects of architecture, landscapes and human figures through rose-coloured glasses.
Marcia Adams was born and grew up in the Olympic Garden Community, Kingston. Marcia Adams is an early drop out of school due to becoming pregnant at the age of 17. Marcia Adams never gave up on school.
In September the year of 2016 she entered in The Jamaica Foundation For Lifelong Learning Programme at 124 East Street Kingston on her journey in being academically certified but little did she know that she would be on a new journey chasing after a hidden passion in jewellery making and painting.
This art and craft project was founded by Mr/Mrs. Byll-Cataria and friends who had gave Marcia Adams and others a second chance in life, and they really appreciate and give thanks for it.
A Jamaican up coming artist Novelette McKay was born and grew up in Kingston. She is the only child for her parents Marcia Grant and Martin McKay and grew up with other family members. Novelette became pregnant at age 17 and is now mother of two handsome boys. Novelette is now a Christian for two years. She loves gardening and she's a cosmetologist by profession. Novelette wants to thank Mrs Althea Byll-cataria and friends for founding the program.
Novelette appreciates everyone that makes it possible.
Tunde Akinniranye is a Nigerian ceramic artist whose work is rooted in traditional and contemporary artistic expressions. His work explores media from thrown pieces, slab work, coil and more recently installation.
With a degree in industrial design from Ahmadu Bello University in Zaria. Nigeria, Tunde has built a successful and long career as a ceramicist and tutor. He continues to provide learning
opportunities for socially marginalised groups and is the creative director of Tado Ceramics, Enfield, London.