The arts of Great Huts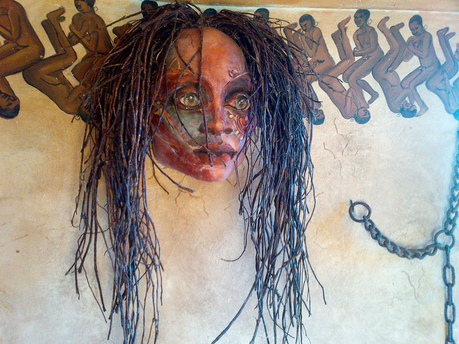 Paul H. Williams, Contributor
New York-born Dr Paul Rhodes, known popularly as Dr Paul, of Washington, DC, has a long association with Jamaica, from his tourist visit here in 1973, to pursuing a medical school elective in Hanover in 1974, to doing charity work at the Hanover, St James, and Trelawny infirmaries, to his current involvement with the Portland Rehabilitation Management Centre in Portland. He resided here twice and is registered to practise in the island.
As Dr Paul continued to visit Jamaica, increasingly, the work of Afrocentric artists would resonate with him. The Bay Gallery in Montego Bay, St James, he recalled, and his very first Jamaican painting was a piece done by Everald Brown. "When I looked at Brown's painting with huts and the cliffs, the people, the spirit, it really moved me," he told Arts & Education recently. But, he was also moved by Portland's scenic beauty; so Negril and Montego Bay gave way to Portland as his vacation place of choice.
Yet, Dr Paul said he was very disappointed that the resorts in Jamaica had nothing to tell the story of black people. "What struck me as odd, as a white man coming to Portland, was why the resorts I was visiting were so European. Where was the story of the black people who were brought here in the most horrific means? Where was that part of the story, where was the African part?" he asked.
The design in the hotels "were not honouring the African fabric and the African people", he said. There was no African fabric, no African masks, no African sculptures. But, why would a Jewish man be so interested in telling the story of black Jamaicans? He, who studies Jewish history and is an "avid student" of the Jewish Holocaust, said he's "afflicted with a sense of zenophilia (love for strangers)".
Intrigued
"I prefer not my own. I prefer people of different cultures,"
- he explained, but said the reason for that is "not entirely clear". And he's always intrigued by the interconnectedness between Judaism and Mother Africa. He made reference to the Star of David and the Lion of Judah, two important Rastafarian symbols, which are also symbols of Judaism. Rastafarianism, he said, is a redefinition of Judaism.
But there was to be another redefinition of sort. It came about in 1996, when on one of his visits to Portland, at Boston Jerk Centre, Dr Paul and Lloyda McIntyre, the then activities director at the Hanover Infirmary, stumbled upon an unused property overlooking the sea near Boston Beach. They crawled under a barbwire fence to view the place. It was all trees and jagged rocks.
"I said to myself, oh my God, one day I would love to build something special on this land,"
- Dr Paul recalled.
That day came, as he eventually bought the property, and an adjoining one, and transformed them into what he was not seeing in Jamaica.
Dr Rhodes built an African village of many 'Great Huts', as opposed to great houses. This resort is a place that tells the story of black Jamaicans, where we are from, what our ancestors had been through, their ways of life, and their artistry.
"I felt that the last thing that Portland needed was another villa. I thought to myself that we should be the 'unvilla',"
- he said. The villa, he argued, is an English and Mediterranean concept, and that the story of the Europeans had already been told, so it was time to tell the story of the African people. He was interested in the knowledge that black people could gain by looking back, embracing themselves and having a sense of pride in their strong African past.
People then should go to the Great Huts for a sense of nature and a sense of African history, and an alternative type of experience from the locked-in 'all-inclusives'. The essence of the Great Huts, Dr Paul said, is respect for Mother Nature and the celebration of African art and culture. He is a serious collector of African art, and said he finds African art "which inspires European cubism" to be "powerful and beautiful".
So, in that jungle of a getaway, everything is art or influenced by art. It is like a living gallery, museum, whatever you may, where it's not always art for art's sake, but functional art, and arts for the aesthetics.
"I believe that a living environment should be beautiful, not just functional, but pleasing to the eyes and senses,"
- Dr Paul explained.
The huts themselves are works of art, and so are their fixtures and furniture. Windows, doors, soap dishes, a wooden bathtub, tissue holders, bed bases and bedheads, floor mats, tapestries, lightshades, have all been bitten by the art bug. Not one physical aspect of the place is spared.
The bug has even eaten its way into the kitchen, reception and library area below the dining lounge, where there are masks and genuine animal skins galore. The asymmetric wood tables and chairs, some carved, and dangling calabash lightshades epitomise the 'natural' theme. Yet, none is as spectacular as the giraffe whose head literally goes through the roof. Dining with coconut-shell knives, spoons and forks is also part of the artistic essence of Great Huts.
Yet, the décor is not the be-all and end-all of this - at Great Huts, which, according to Dr Paul, is like an open university. Guests are encouraged to go visit other Jamaican galleries. In fact, Great Huts has a two-dimensional art odyssey programme. One in which African-Caribbean artists participate in interactive workshops at Great Huts, where their body of work is displayed.
The other part of the programme is for art schools abroad or people who just love art to come to Jamaica to learn about Jamaican art and artists in "all manifestations". They would stay at Great Huts or at hotels in Kingston for the Kingston gallery tours. This occurs in July to coincide with Kingston On The Edge.
Source: jamaica-gleaner.com