West to east - Lloyda McIntyre serving tirelessly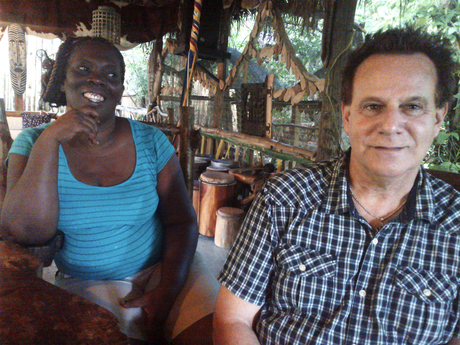 Lloyda McIntyre, manager of the Portland Rehabilitation Management Centre, and Dr Paul Rhodes, the centre's medical director, share a light moment with Rural Express on Sunday, December 1, at Great Huts, Boston, Portland.
Prospect, Portland: Lloyda McIntyre, the care manager at Portland Rehabilitation Management Centre (PRMC), located in Prospect, is a woman on a mission to help the less fortunate - it seems.
Originally from Salt Spring in Green Island, Hanover, McIntyre got seriously involved in community service years ago when she was trained through a Canadian-sponsored programme as a pit latrine specialist. McIntyre was taught to make concrete slabs to cover toilet pits. After six weeks of training, she used her home as the base to train people in her community to build their own slabs as 40 per cent of them, it was found, had absolutely no toilet facilities. It wasn't an enviable title that McIntyre went around with, but she was proud of herself, and still is: "I saved more than one community health-wise and made a lot of people become aware of some of the diseases that could come from them not doing the proper thing. I also helped to save the river, the water."
Successful
The project was a resounding success and was extended to the district of Cauldwell, but alas, the funding expired and the project came to a close. For one month McIntyre was without a full-time job but worked as a volunteer at the Hanover Health Department. She didn't realise, however, that the work she did at the department, which oversaw the pit latrine project, was not going unnoticed.
A Dr Paul Rhodes, who was asked to assist the Hanover Infirmary, made a suggestion for an activities director. McIntyre was recommended by the then chief medical officer of the parish. She was interviewed on July 4, 1995, got the job, and started working the same day. She was to spend the next eight years making a difference in the lives of the residents by getting them involved in various activities. There were many issues she had to deal with and many success stories as well. The one that stands out more than any other from her experience at the infirmary, she said, is that of a woman who was physically and emotionally scarred. She was afflicted by low self-esteem and self-worth. With intervention, the woman released her baggage and turned her life around.
"I was so happy ... That was my greatest joy - that I really helped somebody out of their shame,"
- she told Rural Xpress recently.
But the issue that she recalled as the worst incident at the infirmary was one that hurt her so much that she called it a day immediately and never looked back.
RELOCATION
The Hanover Health Department gained, however, as that was where McIntyre headed for a full-time job. She was there for a good while when Rhodes, who was now operating a business, invited her to join him in Portland. After much consultation and contemplation, McIntyre and her family relocated to Portland. There, she joined Rhodes at his business, Great Huts, and at PRMC as recreational therapist. The PRMC provides rehabilitation, reintegration, and residential services to its clients.
McIntyre's time since then has been split between PRMC and Great Huts, where she is now the manager for grounds and maintenance. She described her experience at the PRMC as great though "very challenging" and "very painful" at times. The success stories, despite limited resources, are many, and it is the feel-good factor that keeps McIntyre in service to the community.
Helping people, she said, motivates her. It's not about the fame and fortune - of which there isn't much. She described her contribution as "my special gift that I get from Jehovah who is helping me through this mission from one end of the island to the other". Source: jamaica-gleaner.com